"Time to clean up the Earth!"

A table on this page is incomplete and requires the following information:
Data for Tier 1, 2, 3, 4, 5, 6, Reincarnation costs.
Please examine the table and add any missing information you may have.
Remove this notice upon completion.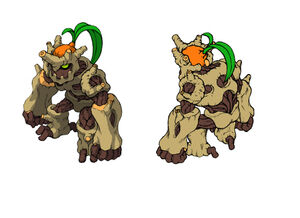 Main article: Wood Golem
The Wood Golem is a recurring monster class in Disgaea 2: Cursed Memories and its remake.
Their special ability allows them to recharge their HP by 20% per turn; Lover specialists increase this by +1% per Lover level.
Magichange is available in Disgaea 2: Dark Hero Days. The Wood Golem's Magichange is a Fist.
| Skill Name | LV | SP | Effect | Power | Height | Range |
| --- | --- | --- | --- | --- | --- | --- |
| Land Break | 15 | 18 | Atk | 110% | 18/12 | Both squares in a line in front |
| Angry Tree | 45 | 46 | Atk | 120% | 24/12 | All four adjacent squares |
| Rush Hour | 80 | 96 | Atk | 130% | 12/12 | 3x3 block in front |
| Nature's Wrath | 192 | 165 | Atk | 170% | 24/24 | Single adjacent square |
v

·

e

·

d
Male Fighter
Male Fighter - Male Warrior - Destroyer - Gladiator - Warlord - Battle Master
Female Fighter
Lady Fighter - Lady Warrior - Valkyrie - Minerva Lass - Freya - Iron Maiden
Mage
Red Mage - Blue Mage - Green Mage - Star Mage - Prism Mage - Galaxy Mage
Skull
Red Skull - Blue Skull - Green Skull - Star Skull - Prism Skull - Galaxy Skull
Archer
Archer - Hunter - Shooter - Bow Master - Cupid - Freischutz
Healer
Healer - Acolyte - Priest - Bishop - Cardinal - Saint
Geomancer
Druid - Mystic - Sage - Hermit - Prophet - Geomaster
Male Samurai
Ronin - Samurai - Bujin - Kengo - Kensei - Shogun
Lady Samurai
Exorcist - Diabolist - Holy Fencer - Battle Maiden - Ravage Princess - Blade Master
Ninja
Genin - Chunin - Jounin - Oniwaban - Touryou - Shadow Master
Kunoichi
Hanakage - Yukikage - Hoshikage - Tsukikage - Sorakage - Master Kunoichi
Thief
Thief - Rogue - Scout - Bandit - Trickster - Master Thief
Magic Knight
Magic Knight - Dark Knight - Rune Knight - Mega Knight - Force Knight - Space Knight
Sinner
Togabito - Yasha - Ashura - Rasetsu - Bushin - Aragami
Gunner
Gunner - Sniper - Outlaw - Hitman - Bullseye - Desperado
Beast Master
Beast Tamer - Beast Leader - Beast Lord - Beast Queen - Beast Master - Beast Savior
Heavy Knight
Heavy Knight - Iron Knight - Steel Knight - Mythril Knight - Adamant Knight - Aegis Knight
Majin
Chaos Soldier - Death Avenger - Violator - Last Battalion - Death Army - Omega Sentinel
Celestial Host
Angel - Angel Cadet - Angel Soldier - Crusader - Avenger - Paladin
Prinny
Private Prinny - Captain Prinny - Colonel Prinny - General Prinny - Prinny King - Prinny God
Orc
Petite Orc - Orc Captain - Head Orc - Orc Master - Orc King - Shadow Orc
Winged Warrior
Mothman - Messenger - Watcher - Observer - Spy - Unknown
Spirit
Ghost - Boggart - Specter - Wraith - Fiend - Phantom
Marionette
Marionette - Killer Puppet - Assassin Doll - Death Coppelia - Mad Jester - Death Crown
Undead
Zombie - Ghoul - Corpse - Ghast - Wight - Zombie King
Flora Beast
Alraune - Nemophilia - Pharbitis - Belladonna - Photinia - Parthenocissus
Roc
Cockatrice - Basilicrow - Peryton - Malphas - Foolfool - Abraxas
Felynn
Nekomata - Caith Sith - Werecat - Tailring - Werecat - Bastet
Aqua Demon
Warslug - Vodianoi - Sea Monk - Aqua Fighter - Sea Monk - Charybdis
Mystic Beast
Cu Sith - Hell Hound - Black Dog - Garm - Othris - Fenrir
Succubus
Empusa - Lilim - Succubus - Carmilla - Hecate - Lilith
Dragon
Dragon - Fafnir - Nidhogg - Azha Dahaka - Tiamat - Bahamut
Holy Dragon
White Dragon - Dragon King - Saint Dragon - Heaven Dragon - Terra Dragon - Divine Dragon
Dragon Zombie
Skeletal Dragon - Death Dragon - Curse Dragon - Mystic Dragon - Dark Dragon - Hell Dragon
Wood Golem
Wood Giant - Tree Folk - Forest Guardian - Green Giant - Gaia Titan - Dreadnaught
Rifle Demon
Baciel - Gambriel - Adnachiel - Verchiel - Ambriel - Malchidael
Deathsaber
Death Saber - Shao Mao - Caracal - Ocelot - Abyssinian - Devon Rex
Entei
Ifrit - Satana - Marid - Flamberg - Slust - Agni
Robot
Copy Robot - Android - Cyborg - Homunculus - Bioroid - Gene Lich