Ad blocker interference detected!
Wikia is a free-to-use site that makes money from advertising. We have a modified experience for viewers using ad blockers

Wikia is not accessible if you've made further modifications. Remove the custom ad blocker rule(s) and the page will load as expected.
"Time to clean up the Earth!"

A table on this page is incomplete and requires the following information:
Data for Tier 1, 2, 3, 4, 5, 6, Reincarnation costs.
Please examine the table and add any missing information you may have.
Remove this notice upon completion.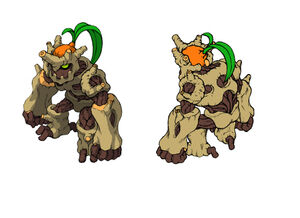 Main article: Wood Golem
The Wood Golem is a recurring monster class in Disgaea 2: Cursed Memories and its remake.
Their special ability allows them to recharge their HP by 20% per turn; Lover specialists increase this by +1% per Lover level.
Magichange is available in Disgaea 2: Dark Hero Days. The Wood Golem's Magichange is a Fist.
| Skill Name | LV | SP | Effect | Power | Height | Range |
| --- | --- | --- | --- | --- | --- | --- |
| Land Break | 15 | 18 | Atk | 110% | 18/12 | Both squares in a line in front |
| Angry Tree | 45 | 46 | Atk | 120% | 24/12 | All four adjacent squares |
| Rush Hour | 80 | 96 | Atk | 130% | 12/12 | 3x3 block in front |
| Nature's Wrath | 192 | 165 | Atk | 170% | 24/24 | Single adjacent square |
v

·

e

·

d
Male Fighter
Male Fighter - Male Warrior - Destroyer - Gladiator - Warlord - Battle Master
Female Fighter
Lady Fighter - Lady Warrior - Valkyrie - Minerva Lass - Freya - Iron Maiden
Mage
Red Mage - Blue Mage - Green Mage - Star Mage - Prism Mage - Galaxy Mage
Skull
Red Skull - Blue Skull - Green Skull - Star Skull - Prism Skull - Galaxy Skull
Archer
Archer - Hunter - Shooter - Bow Master - Cupid - Freischutz
Healer
Healer - Acolyte - Priest - Bishop - Cardinal - Saint
Geomancer
Druid - Mystic - Sage - Hermit - Prophet - Geomaster
Male Samurai
Ronin - Samurai - Bujin - Kengo - Kensei - Shogun
Lady Samurai
Exorcist - Diabolist - Holy Fencer - Battle Maiden - Ravage Princess - Blade Master
Ninja
Genin - Chunin - Jounin - Oniwaban - Touryou - Shadow Master
Kunoichi
Hanakage - Yukikage - Hoshikage - Tsukikage - Sorakage - Master Kunoichi
Thief
Thief - Rogue - Scout - Bandit - Trickster - Master Thief
Magic Knight
Magic Knight - Dark Knight - Rune Knight - Mega Knight - Force Knight - Space Knight
Sinner
Togabito - Yasha - Ashura - Rasetsu - Bushin - Aragami
Gunner
Gunner - Sniper - Outlaw - Hitman - Bullseye - Desperado
Beast Master
Beast Tamer - Beast Leader - Beast Lord - Beast Queen - Beast Master - Beast Savior
Heavy Knight
Heavy Knight - Iron Knight - Steel Knight - Mythril Knight - Adamant Knight - Aegis Knight
Majin
Chaos Soldier - Death Avenger - Violator - Last Battalion - Death Army - Omega Sentinel
Celestial Host
Angel - Angel Cadet - Angel Soldier - Crusader - Avenger - Paladin
Prinny
Private Prinny - Captain Prinny - Colonel Prinny - General Prinny - Prinny King - Prinny God
Orc
Petite Orc - Orc Captain - Head Orc - Orc Master - Orc King - Shadow Orc
Winged Warrior
Mothman - Messenger - Watcher - Observer - Spy - Unknown
Spirit
Ghost - Boggart - Specter - Wraith - Fiend - Phantom
Marionette
Marionette - Killer Puppet - Assassin Doll - Death Coppelia - Mad Jester - Death Crown
Undead
Zombie - Ghoul - Corpse - Ghast - Wight - Zombie King
Flora Beast
Alraune - Nemophilia - Pharbitis - Belladonna - Photinia - Parthenocissus
Roc
Cockatrice - Basilicrow - Peryton - Malphas - Foolfool - Abraxas
Felynn
Nekomata - Caith Sith - Werecat - Tailring - Werecat - Bastet
Aqua Demon
Warslug - Vodianoi - Sea Monk - Aqua Fighter - Sea Monk - Charybdis
Mystic Beast
Cu Sith - Hell Hound - Black Dog - Garm - Othris - Fenrir
Succubus
Empusa - Lilim - Succubus - Carmilla - Hecate - Lilith
Dragon
Dragon - Fafnir - Nidhogg - Azha Dahaka - Tiamat - Bahamut
Holy Dragon
White Dragon - Dragon King - Saint Dragon - Heaven Dragon - Terra Dragon - Divine Dragon
Dragon Zombie
Skeletal Dragon - Death Dragon - Curse Dragon - Mystic Dragon - Dark Dragon - Hell Dragon
Wood Golem
Wood Giant - Tree Folk - Forest Guardian - Green Giant - Gaia Titan - Dreadnaught
Rifle Demon
Baciel - Gambriel - Adnachiel - Verchiel - Ambriel - Malchidael
Deathsaber
Death Saber - Shao Mao - Caracal - Ocelot - Abyssinian - Devon Rex
Entei
Ifrit - Satana - Marid - Flamberg - Slust - Agni
Robot
Copy Robot - Android - Cyborg - Homunculus - Bioroid - Gene Lich