Wastland of Woe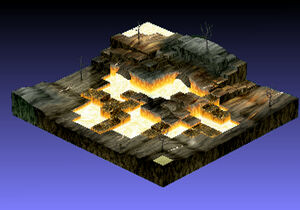 Disgaea: Hour of Darkness map
Wasteland of Woe is the second stage in both Episode 10: Angels, Demons, and Humans in Disgaea: Hour of Darkness, and Episode 3: Chronicles of Etnarnia of the remakes' Etna Mode
Mid-Boss appears and steals the picnic basket.
Enemy Information
Edit
Enemy
Level/Number
Equipped Items

Hobbit
Level 23 x4
-

Hobbit
Level 23
Paw Glove

Puck
Level 27 x3
Cat's Claw
Dimensional Cape
Amulet

Puck
Level 28
Cat's Claw
Dimensional Cape
Amulet

Brownie
Level 33
Porcu-Spine
Magic Vest
Chain Mail
Protector

Dragon
Level 36 x2
-

Fafnir
Level 40
-
Ad blocker interference detected!
Wikia is a free-to-use site that makes money from advertising. We have a modified experience for viewers using ad blockers

Wikia is not accessible if you've made further modifications. Remove the custom ad blocker rule(s) and the page will load as expected.