Skull (Disgaea)
Talk

1
1,248pages on
this wiki
Main article: Skull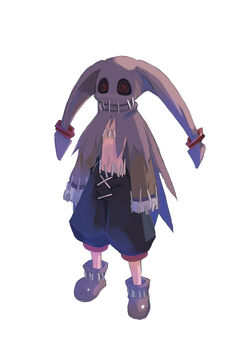 The Skull in Disgaea is the male magic user. While the Skulls fail at using any other weapon besides a staff, the magic that they learn quickly makes up for it. The only difference between a Mage and a Skull is an Aptitude difference between Speed and Hit (the skull has better hit).
What kind of Skull the player makes determines what magic the mage will learn (Red is fire, Blue is Ice, Green is wind, and Orange is star). Note that the Prism Skull can learn Fire, Wind, and Ice Magic, and the Galaxy Skull can learn Fire, Wind, Ice, AND Star, but both can only learn up to Omega spells. Only the basic Red, Blue, Green, and Orange skulls can learn their respective Tera spells (Tera Fire, etc.)
Be wary of the skull, however. While being a heavy hitter with magic, they are often weak in defense, along with having very little HP to back them up. Players should keep this weakness in mind when facing enemy skulls in the Item World.
Many players often equip their own skulls with Muscles to improve the chances of the skull living, should the skull be hit.
Strong spiritual power is required to use magic, and the skulls' unique costume is designed to strengthen their concentration. Their strange cry is a sign of their trance-like state, and it shows that their concentration is at its peak. At times, this concentration power can reach higher than 200 Polga.
| Skill Name | LV | SP | Effect | Power | Height | Tier |
| --- | --- | --- | --- | --- | --- | --- |
| Fire | 1 | 4 | Fire | 100% | 36/36 | 1a,3,4 |
| Mega Fire | 8 | 10 | Fire | 125% | 36/36 | 1a,3,4 |
| Giga Fire | 20 | 25 | Fire | 150% | 36/36 | 1a,3,4 |
| Omega Fire | 40 | 60 | Fire | 175% | 36/36 | 1a,3,4 |
| Tera Fire | 100 | 150 | Fire | 200% | 36/36 | 1a |
| Ice | 1 | 4 | Ice | 100% | 36/36 | 1b,3,4 |
| Mega Ice | 8 | 10 | Ice | 125% | 36/36 | 1b,3,4 |
| Giga Ice | 20 | 25 | Ice | 150% | 36/36 | 1b,3,4 |
| Omega Ice | 40 | 60 | Ice | 175% | 36/36 | 1b,3,4 |
| Tera Ice | 100 | 150 | Ice | 200% | 36/36 | 1b |
| Wind | 1 | 4 | Wind | 100% | 36/36 | 1c,3,4 |
| Mega Wind | 8 | 10 | Wind | 125% | 36/36 | 1c,3,4 |
| Giga Wind | 20 | 25 | Wind | 150% | 36/36 | 1c,3,4 |
| Omega Wind | 40 | 60 | Wind | 175% | 36/36 | 1c,3,4 |
| Tera Wind | 100 | 150 | Wind | 200% | 36/36 | 1c |
| Star | 1 | 4 | - | 125% | 36/36 | 2,4 |
| Mega Star | 12 | 10 | - | 155% | 36/36 | 2,4 |
| Giga Star | 25 | 25 | - | 185% | 36/36 | 2,4 |
| Omega Star | 50 | 60 | - | 210% | 36/36 | 2,4 |
| Tera Star | 120 | 150 | - | 250% | 36/36 | 2 |
| Magic Boost | 9 | 8 | Int +20% | - | 24/24 | All |
| Braveheart | 12 | 8 | Atk +20% | - | 24/24 | All |
v

·

e

·

d
Disgaea Classes
Monster Classes
Prinny
Pvt. Prinny - Cpt. Prinny - General Prinny - Prinny King - Prinny God
Great Wyrm
Efreet - Shaitan - Marid - Flamberg - Surt - Kagutsuchi
Faery
Hobbit - Puck - Brownie - Koropokkoru - Lilliput - Phooka
Spirit
Ghost - Boggart - Specter - Wraith - Fiend - Phantom
Golem
Golem - Spriggan - Ekim - Djinn - Ullikummi - Gogmagog
Treant
Man-Eater - Oakrot - Treant - Zakkum - Erl King - Yggdrasil
Winged
Imp - Gremlin - Agathion - Alp - Incubus - Demon
Dark Knight
Killer Armour - Dark Knight - Dullahan - Avenger - Demonic Suit - Executioner
Lantern
Pumpkin - Decoy - Mandrake - Scarecrow - Jack - Halloween
Gargoyle
Gargoyle - Guardian - Nebiros - Balrog - Seth - Pazuzu
Shadow
Nightmare - Shade - Lich - Chernobog - Death - Thatnatos
Serpent
Serpent - Mizuchi - Sea Dragon - Rahab - Leviathan - Midgardsorm
Galactic Demon
Cyclops - Sentinel - Nataku - Talos - Ravana - Argus
Dragon
Dragon - Fafnir - Nidhogg - Ahzi Dahaka - Tiamat - Bahamut
Undead
Zombie - Ghoul - Corpse - Ghast - Wight - Zombie King
Nether Noble
Brute - Death Boar - Minotoar - Humbaba - Archdemon - Behemoth
Beast
Manticore - Nue - Myrmecoleo - Chimera - Tao Tieh - Sphinx
Succubus
Empusa - Lilim - Succubus - Carmilla - Hecate - Lilith
Kit Cat
Nekomata - Cait Sith - Werecat - Tailring - Elbacky - Bastet
Nosferatu
Vampire - Strigoi - Neuntoter - Varcolaci - Nosferatu - Unholy King